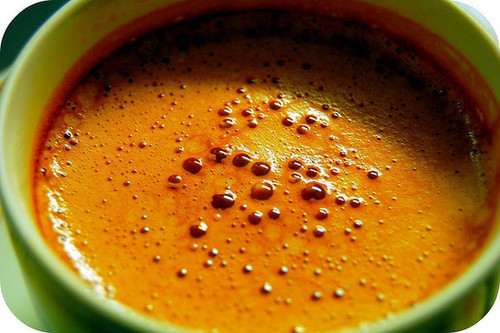 VeniseVenice-etc's insight:
Venetians are drinking coffee "stretto", which means very tight. You will have not more than 1 cm coffee in the bottom of the cup.
[quoteicon author="Zill Niazi"]Coffee is the second most traded product in the world after petroleum. World wide coffee production tips the scales at about 6 million metric tonnes.
It takes five years for a coffee tree to reach maturity. The average yield from one tree is the equivalent of one roasted pound of coffee.
People who buy coffee primarily at drive through windows on their way to work will spend as much as 45 hours a year waiting in line.
Of the various botanical species of coffee trees in the world, only two are extensively cultivated commercially; Arabica and Robusta.
The average person who buys coffee outside the office to consume at work will spend the equivalent value of a round trip plane ticket to Florida every year.
The first coffee house in Europe opened in Venice in 1683, while coffee was available in Europe as early as 1608, mostly for the rich.
The expression "a cup of Joe" to denote coffee, was first coined during WWII, when American servicemen (G.I. Joe) were identified as big coffee drinkers.
The largest coffee-producing nation, Brazil, is responsible for 30 to 40 % of total world output.
In the late 1800's, Chase and Sanborn put out a flier on how to read the coffee grounds at the bottom of the cup (like a fortune teller).
Coffee cherries usually contain two "beans", except for the single bean peaberry anomaly. Cherries with three beans are deemed to be a sign of good luck.
Credits : photographer  Zill Niazi[/quoteicon]