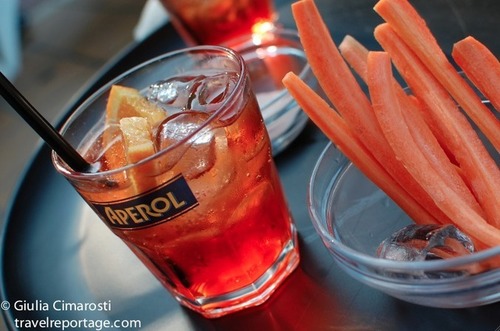 [quoteicon author="Giulia Cimarosti"]Italian aperitivo: Spritz!
You just sit in a bar, order a drink and magically you get some delicious appetizers with it… welcome to the aperitivo!
Aperitivo is something very typically Italian and every time I go somewhere else I kinda miss it. Even if I am not a heavy drinker – I actually don't drink except very rare occasions, and I don't like heavy drinks… but when I'm in Italy and I have an aperitivo I know exactly what to order: Spritz!
Have you ever heard about Spritz? It's a light cocktail, originally from Veneto, in the north-east of Italy.
The recipe is very easy, and it makes a very light alcoholic and refreshing drink:
2 parts Aperol (orange liqueur)
3 parts Prosecco (white sparkling wine)
1 splash of soda or seltz
Ice, half a slice of orange." […]
See on blog.travelreportage.com[/quoteicon]