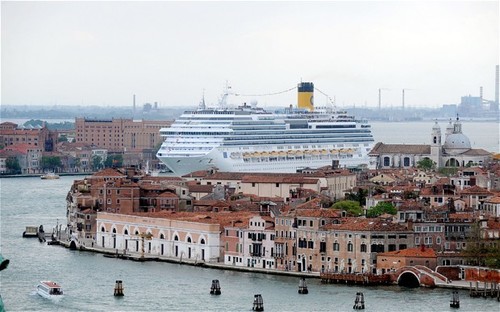 VeniseVenice-etc's insight:
Everyone in Venice hates the cruise ships, an insust to the city and its way of life. NO to big cruise ships !
[quoteicon author="UPI.com"] An Italian minister called for limits on travel of cruise ships after an alleged close call of a ship passing through a Venice, Italy, lagoon.
Witnesses reported Saturday the 100,000-ton cruise chip Carnival Sunshine passed within 20 meters (65 feet) of the Riva dei Setti Martiri waterfront, near Venice's St. Mark's Square.
The incident stirred fears of the ship running aground and reminded local residents of the Costa Concordia crash, off the coast of Tuscany in 2012 that killed 32 people, the Italian news agency ANSA reported Monday.
"After the tragedy of the Concordia, there is still a safety risk tied to the passage of large ships. Especially in Venice, there is an intolerable risk percentage. The government must apply [changes] immediately," said Andrea Marcucci, head of the Senate committee on art and culture.
Carnival issued a statement denying any safety violations or deviations from protocol, and the Venice port authority said testimony from crew members of tugboats indicated the same, saying the ship never came within 70 meters (229 feet) of the bank. See on www.upi.com [/quoteicon]