Your wedding is the first stop on your journey as husband and wife, why not start the trip right away with a luxurious destination wedding?  A destination wedding is a chance for you and your family and friends to have a great time in an exotic and memorable locale.
It's not just a wedding, it's a vacation – for you and your guests.
Traditionally, after the wedding is the the honeymoon, when the happy couple sets off to explore a new place.  Well, by having a luxurious destination wedding – you cut right to the chase.  The ceremony itself is already in an exotic local you've always wanted to visit.
Don't just share the wedding and reception with family and friends; enjoy the locale on the days leading up to and after the wedding.  Arrange group activities and tours so that you and your guests don't just enjoy the wedding day, but the days leading up to it and after it.
Choose your destination carefully – that includes the dates!
For your luxurious destination wedding, choose a meaningful venue for a memorable experience.  It could be someplace you've always wanted to visit or someplace you've already been but is special to you both.  Make sure, however, the venue is wedding friendly.
First, check that you CAN be married there.  Understand local marriage regulations and find out if it will be recognized in your home country.
Secondly, make sure your wedding party can be accommodated.  You want your guests to enjoy the place so make sure local transportation and lodgings are enough to accommodate everyone.
Lastly, choose the date wisely.  You and your guests will need time to prepare for the trip. You will also need to assess local conditions during your chosen date.  You don't want to have a beach wedding during monsoon season, nor do you want your bridesmaids to be freezing in their strapless gowns in winter.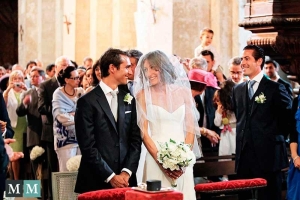 Also, if you're going during "peak" season, you may find yourself competing with hordes of tourists for the venues you want.  Going on an off season could also save on costs as prices could be cheaper or discounted.
Though a destination wedding is luxurious, it can be cheaper to plan.
Aside from off-season discounts, you and your party could take advantage of group discounts.  This mean's you're all enjoying the luxurious surroundings at a lower price than if you had taken a personal vacation.
Get a good local wedding planner to do the legwork and groundwork for you.  A good wedding planner will also know the best (and most cost effective) local suppliers who can handle everything from hair and make-up to the food to photography and video services.
The exotic and wonderful locale also means that you don't need to splurge on to many details –  elaborate flower arrangements, gourmet meals, fancy venues – to make your destination wedding feel luxurious.
Here at Venice-etc., we specialize in helping you have the best, most luxurious destination wedding you could want in the beautiful and romantic city of Venice and it's surroundings.  From conceptualizing, planning and execution, we'll be there for you – in Venice itself – to make sure your wedding is memorable for both you and your guests.