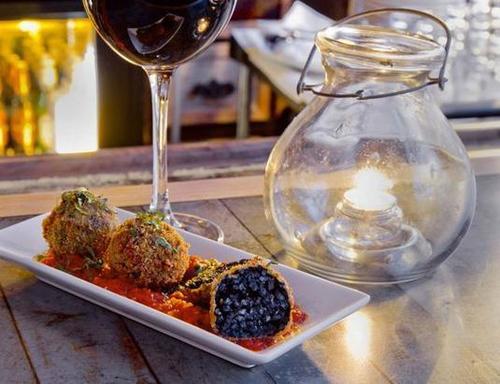 VeniseVenice-etc's insight:
The cuisine of Venice relies heavily on the abundant bounty of the Venetian lagoon, and the vast array of sea creatures which inhabit it.
[quoteicon author="P
anoram Italia
"] The mythical city of Venice – unique in location as it is in its cuisine. For a  lover of seafood there is no better place to sample a wide range of  underwater catches since Venice relies heavily on the bounty collected  from its lagoon. The Rialto Market is overflowing daily, from tiny snails  called bovoleti to razor clams called cape longhe. For those faint of  stomach, fret not. Venetian cuisine is varied and the well-known tradition  of sampling small bites over big meals will allow you to dabble rather  than commit. The following list presents 10 of the most popular and  typical dishes to be found in Venice. Evviva la cucina Veneziana!  –
1. Cicchetti
Nothing signals aperitivo time like cicchetti,  small snacks unique to the bars of  Venice.
2. Ombra & Spritz
Don't forget an ombra or small  glass of wine to go with your  cicchetti (the word "ombra" literally  translated means shadow/  shade).
3. Seppia al nero
Cuttlefish in black  Seppia al nero is a classic first dish in Venice.
4. Sarde in saor
Marinated sardines  This is a typical first dish and definitely  the most popular in Venice.
5. Fegato alla venesiana
Venetian liver  Known for its simplicity, Fegato alla  venesiana is enjoyed even by those  who do not typically like eating liver.
6. Baccalà Mantecato
Mantecato cod fish  A common delicacy served throughout  Venetian cicchetti bars, baccalà is  codfish that's boiled, skinned, and literally  beaten to a pulp.
7. Granseola
Spider crab  Arranged delicately on your plate, pasta is served  with a light, fresh tomato sauce from the spider  crab's shell.
8. Folpetti consi
Boiled baby octopus  For the adventurous foodies, these  small young octopuses are boiled  typically with carrots and celery until  tender, and then seasoned lightly  with oil, lemon juice, salt and pepper.
9. Carpaccio di tonno
Tuna carpaccio  This is an excellent light lunch or first dish option.
10. Tiramisù
The original  recipe called for custard and  only recently has Mascarpone  cheese been substituted.
See on www.panoramitalia.com [/quoteicon]